Premium Trackless Train!
Our latest addition is the "The Crown King Express", named after the last branch of railroad; thus, completing the "Bradshaw Mountain Railway" to the Crown King AZ goldmine in 1904! This premium, custom built, all-electric, trackless, eco-friendly family train is built with the finest American craftsmanship.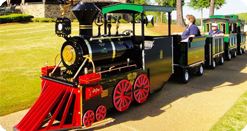 Our train is great for parties and corporate events!
LEAVING THE STATION, ALL ABOARD!
Trackless Train
Space Requirements
The 38' train is only 42" at its widest point and has a turning radius of less than 18'; making it a hit at small and large venues alike! The pre-set top speed of 6mph combined with regenerative braking technology insures the Locomotive slows from full speed to stop in less than two (2) feet!
About the Premium Trackless Train
The Train safely seats 18-28 children and big kids (aka adults). The "Crown King Express" delivers five thousand lbs. of tow capacity & allows for 8 hrs of uninterrupted operation on one charge!